This waiata, Tōku Ariki, was composed by Ruawhaitiri Ngatai Mahue for the Kurahautū-led wānanga at General Synod in October 2022.
Tōku Ariki
Hei mua koe i a mātou e Ihowa arahina ahau
He hōnore nui he korōria he maungarongo e
Ahau ka waiata ahau ka hāmama
Whakawhetai atu
E Ihowa kei tōku ariki
Anglican Indigenous Leadership Initiative Readers
Here are a range of Readers that have been produced for the Anglican Indigenous Leadership Initiative wananga 2023.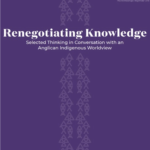 Mātauranga Mihinare: An Introduction
This short video gives an insight into being Mihinare (Anglican) in this ancient, God-given context of Aotearoa and the Pacific. It guides our voyage into the future.
Ngā Maramara Mātauranga |  Selected Thinking in a Māori and Iwi Worldview
This book is a collection of ideas from a range of leading thinkers who have contributed insight into the place, purpose and potential of mātauranga. It is designed to show the diversity and depth of thinking across Te Ao Māori, and to support you in your journey of understanding around this topic.