Whakapapa
Te whakamoemiti ki a koe, e te Ariki,
te Kai-hōmai i ngā mea katoa,
Nāu te kī, 'Īnoia, ā ka hoatu; Rapua, ā ka kitea;
Pātukia, ā ka uakina ki a koutou.'
Korōria ki a koe.
Praise to you, abundant God,
for when we ask, you give;
when we seek, you show the way.
When we knock, you answer.
Praise to you for your unfailing grace.
Make us now your faithful people.
Amen.
– He Karakia Mihinare o Aotearoa | A New Zealand Prayer Book
1841-1869
Bishop of New Zealand and Metropolitan (Right Reverend)
1841-1869 George Augustus Selwyn
Photo Credit: Mason & Co (Robert Hindry Mason) – https://www.npg.org.uk/collections/search/portrait/mw129677/George-Augustus-Selwyn, Public Domain, https://commons.wikimedia.org/w/index.php?curid=14756712
1869-1922
Primate (Right Reverend)
1869-1890 Henry John Chitty Harper (Christchurch)
Photo Credit: Barker, Alfred Charles (Dr), 1819-1873. Bishop Henry John Chitty Harper, Warden of Christ's College, Christchurch – Photograph taken by Dr Alfred Charles Barker. Webb, Steffano, 1880-1967: Collection of negatives. Ref: 1/1-008981-F. Alexander Turnbull Library, Wellington, New Zealand. /records/22906103
1890-1893 Octavius Hadfield (Wellington)
Photo Credit: Reverend Octavius Hadfield. Harding, William James, 1826-1899: Negatives of Wanganui district. Ref: 1/4-006488-G. Alexander Turnbull Library, Wellington, New Zealand. /records/23150177
1893-1902 William Garden Cowie (Auckland)
Photo Credit: William Garden Cowie, Bishop of Auckland. Schmidt, Herman John, 1872-1959 :Portrait and landscape negatives, Auckland district. Ref: 1/1-001285-G. Alexander Turnbull Library, Wellington, New Zealand. /records/22901615
1902-1919 Samuel Tarratt Nevill (Dunedin)
Photo Credit: Unknown – scanned from an original photograph at Peter Mann House
1920-1922 Churchill Julius (Christchurch)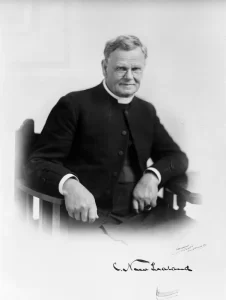 Photo Credit: Churchill Julius. Alexander :Photographs of Te Aute College. Ref: 1/1-013187-G. Alexander Turnbull Library, Wellington, New Zealand. /records/22902234
1922-1992
Primate and Archbishop of New Zealand (Most Reverend)
1922-1925 Churchill Julius (Christchurch)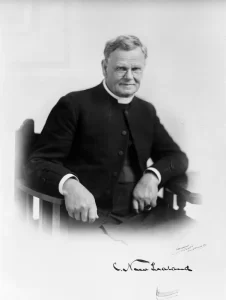 Photo Credit: Churchill Julius. Alexander :Photographs of Te Aute College. Ref: 1/1-013187-G. Alexander Turnbull Library, Wellington, New Zealand. /records/22902234
1925-1940 Alfred Walter Averill (Auckland)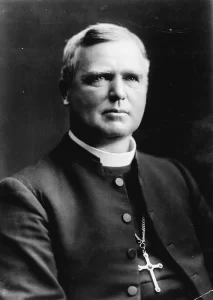 Photo Credit: S P Andrew Ltd. Bishop Alfred Walter Averill – Photograph taken by S P Andrew Ltd. New Zealand Free Lance : Photographic prints and negatives. Ref: PAColl-8602-05. Alexander Turnbull Library, Wellington, New Zealand. /records/22869324
1940-1952 Campbell West-Watson (Left) (Christchurch)

Photo Credit: Anglican bishops Campbell West-Watson and Churchill Julius, Christchurch – Photographer unidentified. Webb, Steffano, 1880-1967: Collection of negatives. Ref: 1/1-008982-F. Alexander Turnbull Library, Wellington, New Zealand. /records/22532927
1952-1960 Reginald Herbert Owen (Wellington)

Photo Credit: Speed, Harold, 1872-1957 [Reginald H Owen. Between 1918 & 1934?]. Ref: G-650. Alexander Turnbull Library, Wellington, New Zealand. /records/22320939
1961-1971 Norman Alfred Lesser (Waiapu)

Photo Credit: https://photonews.org.nz/nelson/issue/NPN5_19610401/t1-body-d25.html
1972-1980 Allen Howard Johnston (Waikato)

Photo Credit: Unknown – scanned from an original photograph at Peter Mann House
1980-1985 Paul Alfred Reeves (Auckland)

Photo Credit: Lloyd Ashton Anglican Taonga
1986-1992 Brian Newton Davis (Left) (Waikato, Wellington)

Photo Credit: Anglican archbishop Brian Davis and Catholic cardinal Thomas Williams, Wellington. Dominion Post (Newspaper): Photographic negatives and prints of the Evening Post and Dominion newspapers. Ref: EP/1990/1813/28a-F. Alexander Turnbull Library, Wellington, New Zealand. /records/23242075
The Anglican Church in Aotearoa, New Zealand and Polynesia
Te Hahi Mihinare ki Aotearoa ki Niu Tireni, ki Nga Moutere o Te Moana Nui a Kiwa
1992-1997
Primate and Archbishop (Most Reverend)
1992-1997 Brian Newton Davis (Left)(Wellington)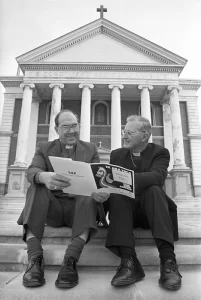 Photo Credit: Anglican archbishop Brian Davis and Catholic cardinal Thomas Williams, Wellington. Dominion Post (Newspaper): Photographic negatives and prints of the Evening Post and Dominion newspapers. Ref: EP/1990/1813/28a-F. Alexander Turnbull Library, Wellington, New Zealand. /records/23242075
1998-2004
Primate and Presiding Bishop (Right Reverend)
John Campell Paterson (Auckland)
Photo Credit: Lloyd Ashton Anglican Taonga
Co-Presiding Bishops:
Tikanga Maori (Right Reverend)
Whakahuihui Vercoe (Aotearoa)
Photo Credit: Image © 2004. Julanne Clarke-Morris, Anglican Taonga
Tikanga Pasefika (Right Reverend)
Jabez Leslie Bryce (Polynesia)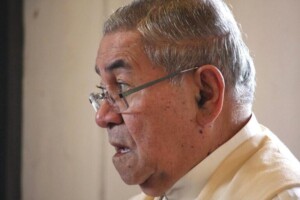 Photo Credit: Lloyd Ashton, Anglican Taonga
Tikanga Pakeha (Convening Bishop) (Right Reverend)
George Howard Douglas Connor (Bay of Plenty)
Photo Credit: Unknown – scanned from an original photograph at Peter Mann House
2004-2006
Primate and Archbishop (Most Reverend)
Whakahuihui Vercoe
Photo Credit: Image © 2004. Julanne Clarke-Morris, Anglican Taonga
Co-Presiding Bishops:
Tikanga Pasefika (Right Reverend)
Jabez Leslie Bryce (Polynesia)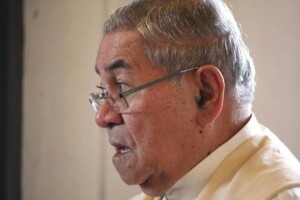 Photo Credit: Lloyd Ashton, Anglican Taonga
Tikanga Pakeha (Right Reverend)
George Howard Douglas Connor (Bay of Plenty, Dunedin)
Photo Credit: Unknown – scanned from an original photograph at Peter Mann House
2006-2008
Shared Primacy (interim arrangement)
Primate
Archbishop: Tikanga Maori (Most Reverend)
William Brown Turei (Aotearoa)
Photo Credit: Lloyd Ashton, Anglican Taonga
Archbishop and Co-Presiding Bishops (Most Reverend):
Tikanga Polynesia
Jabez Leslie Bryce (Polynesia)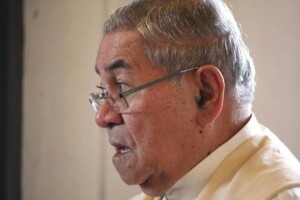 Photo Credit: Lloyd Ashton, Anglican Taonga
Tikanga Pakeha
David John Moxon (Waikato)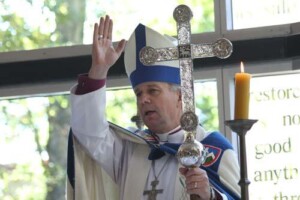 Photo Credit: Lloyd Ashton, Anglican Taonga
2008-
Shared Primacy
Primate and Archbishop (Most Reverend)
Te Pihopatanga o Aotearoa
2008-2017 William Brown Turei (Aotearoa)

Photo Credit: Lloyd Ashton, Anglican Taonga
2018- Donald Steven Tamihere (Aotearoa)
Diocese of Polynesia
2008-2010 Jabez Leslie Bryce (Polynesia)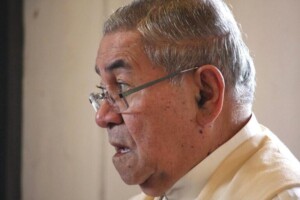 Photo Credit: Lloyd Ashton, Anglican Taonga
2010-2018 Winston Halapua (Polynesia)

Photo Credit: Lloyd Ashton, Anglican Taonga
2019-2021 Fereimi Cama (Polynesia)

Photo Credit: ACNS/Alex Baker
2023-Sione Silongo Ulu'ilakepa (Polynesia)

Photo Credit: Julanne Clarke-Morris, Anglican Taonga
New Zealand Dioceses
2008-2013 David John Moxon (Waikato)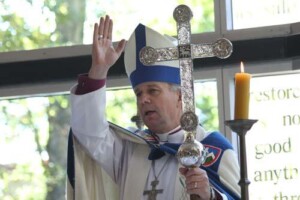 Photo Credit: Lloyd Ashton, Anglican Taonga
2013- Philip Richardson (Taranaki)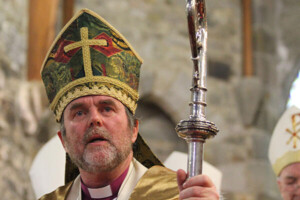 Photo Credit: Lloyd Ashton, Anglican Taonga